Panthers survive Wolverines 43-32
CORTEZ – Wary of a left leg already wrapped from thigh to calf, Montezuma-Cortez junior Savannah Haselroth's luck went from tough to worse when she looked to have sprained her left knee after being fouled on a baseline drive with 5.4 seconds left in the first quarter of the 3A Intermountain League Girls' District Tournament play-in game Tuesday.
Knowing the Panthers – or visiting Bayfield – would have to next face powerhouse Centauri on Thursday night in the tourney's semifinals, watching Haselroth require help to limp to the trainer's table was a sight Brad Wright wished he could un-see. What he saw after that, however, left him upbeat about M-CHS' chances to at least give the Falcons a fight.
"You never know; you've still got to play the game," he said after M-CHS survived BHS at home, 43-32. "But we're very positive. Centauri's going to be a beast – they've really routed us both times we've played them – so we're going to go (to La Jara) and try to … make a good run. Just try to get our feet on the ground for Saturday, more or less."
Results from Thursday's action between Montezuma-Cortez (5-14 overall) and No. 3-ranked CHS (17-2) were unavailable at press time, as were figures from Ignacio (10-9) versus Crested Butte (13-6). The Titans were brought in from the 3A/2A Southern Peaks for postseason play as part of CHSAA's altered basketball alignments this winter.
Saturday will feature the third-place game at 11 a.m. and the IML championship at 2 p.m.
How it went down
Just 29.6 ticks before her unplanned exit, Haselroth hit a 3-pointer to increase the Panthers' fast-growing lead on Bayfield (5-15 overall) to 13-2. After being aided to the sideline, junior reserve Trenity Tillahash made one of two free throws in her stead. However, the Wolverines gained a vital confidence boost when junior Michelle Kirk hustled to net a buzzer-beating two-pointer at the other end.
Trailing 14-4 as the second quarter began, BHS began a comeback for the books. Fueled by two of junior Genesis Barrera's three triples, Bayfield outscored M-CHS 12-2 in 6:37 worth of game time and pulled even when Barrera landed a corner bomb tying the contest at 16-16. Senior Alaysia Kremer put the visitors up 17-16 with 0:42.8 left via a free throw, then ended the half by rebounding a missed free throw and taking it the length of the court for a breakaway layup.
Leading 19-16 after outscoring Montezuma-Cortez 15-2 in the second stanza, the Wolverines knew the Panthers would respond to defend their house. It didn't take long for M-CHS to ramp up the pressure. Sophomore Taylor Whited and junior Cyriah Begay started the third quarter striking from inside and outside the three-point arc.
Barrera (18 points) made what ended up being her final three, but Montezuma-Cortez junior Markylla Jones regained the home team a 23-22 lead with 5:17 left. Not long after Kremer (7 points) countered with a deuce, Ogo dropped in back-to-back 2-pointers – swelling M-CHS' lead to 32-24, and pressing BHS head coach Lauren Moran into using a timeout with 1:07 to go.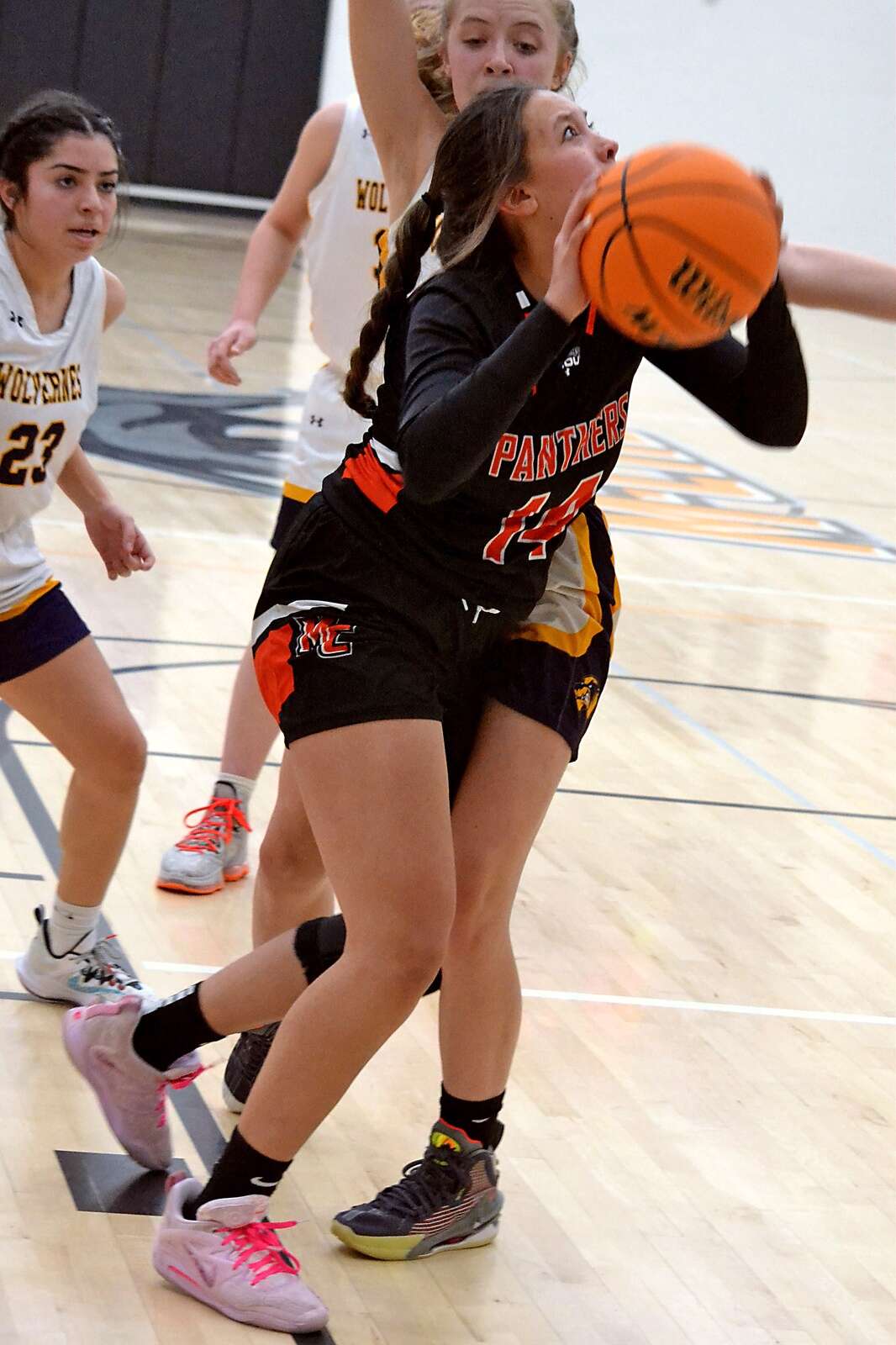 "Took a little bit for us to get into our stride," Wright said. "Savannah's our leading scorer and also leads in blocks and assists; when a girl like that goes down …. We (coaches) were really proud of them all for stepping up the way they did. We just went to a more 'specific' offense, looking for mismatches and areas we could exploit a little bit."
No further damage was done, but BHS sophomore Renae Foutz (2 points) went into the fourth quarter owning four personal fouls and eventually picked up her disqualifying fifth with 3:07 still remaining. Two Barrera free throws pulled Bayfield within five points, 36-31, but the Panthers outscored the Wolverines 7-1 the rest of the way to end Bayfield's season.
Kirk totaled five points in defeat. Jones paced M-CHS with nine points, while Ogo and Whited each registered eight. Held to just one three-ball, Begay ended up with six points. Tom found ways to operate inside for five. Lone senior Amiyah Ogo converted an and-1 play for her three points, which put Montezuma-Cortez up 9-2 in the first.
"We're really proud of the progress we made this year, and very optimistic that improvement is going to continue and just accelerate in the future with the young kids we have coming up," Moran said. "Overall, we're definitely disappointed that we didn't win. I think we were capable, but we're still proud of their effort, for sure."
"Hats off to Bayfield," Wright said. "I'm really impressed with what Moran has done with them, to bring them to where they are. And I'm glad they brought a good game for us."