Furse offers plea deal, citing doubt and polygraph result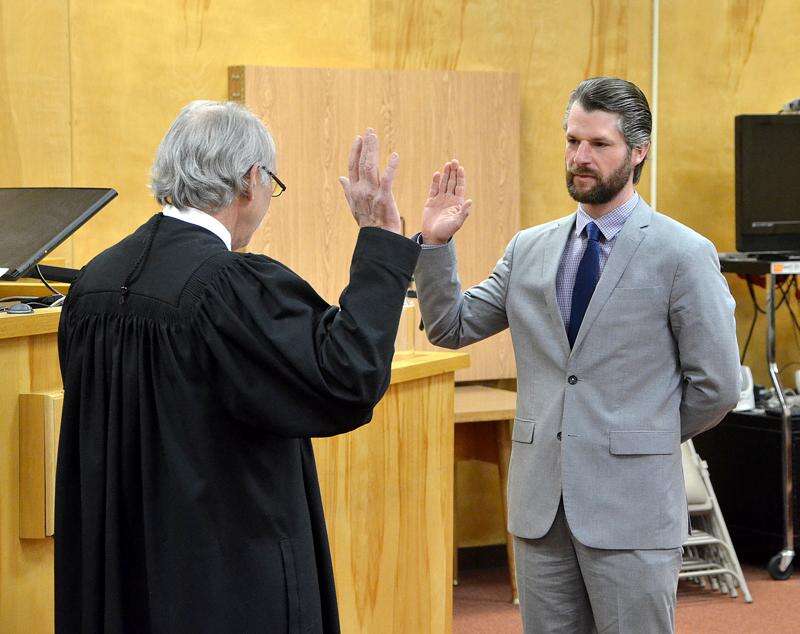 Charges against Jennifer Marie Folsom for suspicion of attempted second-degree murder of James Lloyd Box Jr. in 2018 will not be pursued because of doubt about her guilt and the results of a polygraph test, said Assistant District Attorney Will Furse of the 22nd Judicial District.
"The people cannot in good conscious proceed with attempted-murder allegation based on this prosecutors' doubt, as well as ... expert analysis of polygraph results," Furse said during a plea hearing Thursday.
Kevin Wade Folsom admitted shooting Box on Haycamp Mesa and pleaded guilty to second-degree murder He was sentenced to 25 years in prison for the January 2018 slaying.
Prosecutors have suspected that Jennifer Folsom, 32, also known as Jennifer Box, initially shot James Box, her husband, after an argument during a New Year's party in which the three consumed meth, according to court records.
Kevin Folsom admitted to firing a fatal shot. He and Jennifer Folsom are cousins.
In May 2019, a grand jury was convened to review the case and conduct further investigation, and it handed down a criminal indictment against Jennifer Folsom in February 2020.
The DA's Office has the option of convening a grand jury in cases of public importance and for cases that require additional investigation. Grand juries have 12 jurors. They review case files, witness statements and evidence, and can reinterview witnesses and law enforcement. They can subpoena witnesses. A grand jury votes on whether there is evidence for a criminal indictment.
The DA reviews the indictment and decides whether to file formal charges.
After the grand jury indictment, Furse, who was DA at the time, filed charges against Jennifer Folsom including suspicion of attempted second-degree, assault with a deadly weapon, violent crime using deadly weapon, violent crime causing serious bodily injury, and possession of a gun by a previous offender.
But during a plea hearing Thursday, Furse proposed a plea agreement in which Folsom pleaded guilty to a single felony charge of possession of a weapon by a previous offender, with a recommended sentence of six months' probation.
Furse said evidence indicates Folsom handled a 9mm Ruger pistol in the Boggy Draw area before traveling to Haycamp Mesa with Kevin Folsom and Box.
The remaining charges would be dismissed if District Judge Doug Walker accepted the plea agreement.
Furse presented the reasons for not pursuing prosecution of the attempted-murder charge and related charges.
Furse said the prosecution was initially "swayed" by a Kevin Folsom's narrative that "attempted to lay blame on Jennifer" by claiming in interviews with investigators that she initially shot Box in a way that did not initially take his life.
"That is the theory the people have been proceeding under for some time," Furse said.
Box was shot twice, and forensic evidence suggested time elapsed between the first and second shot, supporting the theory.
Folsom's relationship history with Box "in the People's mind, did give some motive for her wanting to murder Mr. Box," Furse added.
But he said further investigation and polygraph test results have raised doubts about Jennifer Folsom's alleged involvement in the initial shooting.
Furse said Kevin Folsom's story about what happened "changed and evolved into a story that lay blame on Jennifer."
Furse said Jennifer Folsom took a polygraph test under the supervision of the Colorado Bureau of Investigation, and an expert issued a finding that she "was truthful and not deceptive," Furse said.
While polygraph test results are not admissible in court, Furse said its findings and his doubt about Jennifer Folsom's guilt played a role in a proposed plea bargain that dismisses attempted second-degree murder charge and associated charges.
He said he is ethically bound to dismiss charges if he believes he cannot prove them beyond a reasonable doubt.
"As a prosecutor who is steadfast in his ethical responsibility and oath, I cannot prosecute Folsom for attempted murder," Furse said.
Furse said he has been in discussions with Box's family about the plea deal, which proposes to dismiss the attempted-murder charge. He said that while many of the them are satisfied with the work of the DA's office handling of the case and conviction of Kevin Folsom, others wanted more to be done.
"I wish I could give the family more answers, and I wish I could tell the court with certainty what happened on Haycamp when James' life was taken from him. I offer a sincere apology to the Box family for this investigation ending in way that leaves so many people with so many questions. We may never know or have a full explanation of events that took place on Haycamp Mesa."
Walker ordered a presentence investigation be conducted for Folsom. He did not officially accept or reject the plea bargain.
"Given the original charges, I want the information (from a PSI)," he said.
Walker said Folsom has a previous conviction for felony menacing and that "gives me pause on what kind of person (she) is."
A decision on accepting the plea agreement is pending, and sentencing is set for April 22. Box's family will be given the opportunity to testify during sentencing.
Case history
According to case files, Box, Kevin Folsom and Jennifer Folsom drove to Haycamp Mesa east of Dolores to party and use meth in early January 2018.
The couple fought, and Jennifer Folsom allegedly shot Box, according to case documents.
Kevin Folsom then picked up the gun and fatally shot Box in the head, according to case files. He told prosecutors he did it "to put him out of his misery."
When asked why he did not call 911, Kevin Folsom said he did not want to get arrested for the drugs and the shooting, and did not believe Box would survive that long because he'd lost a lot of blood.
According to an arrest affidavit by sheriff's Detective Tyson Cox, Kevin Folsom left the scene of the slaying, and attempted to make arrangements to hide the body. Box's clothing had been removed.
Nowlin said he received a tip Jan. 3, 2018, about a man who had been fatally shot.
After a three-hour search, deputies found Box's body on Haycamp Mesa with a bullet wound to his head. They arrested Kevin Folsom that day as he drove on Colorado Highway 145.
According to an obituary in The Durango Herald, James Lloyd Box Jr., 42, grew up on the Southern Ute Indian Reservation and has two children. His Native American name is Buffalo Horse.
"To wake up in the morning and realize my son is gone hurts inside," said his father, Eddie Box, during Kevin Folsom's sentencing. "It has been a very hard and difficult time, and we miss our son."
He recounted how his son enjoyed participating in Native American ceremonies and sang traditional spiritual songs. His mother, Betty Box, said James Box embraced the traditional ways, including participating in sweat lodge ceremonies.
jmimiaga@the-journal.com