Championships and strong teams highlight exciting year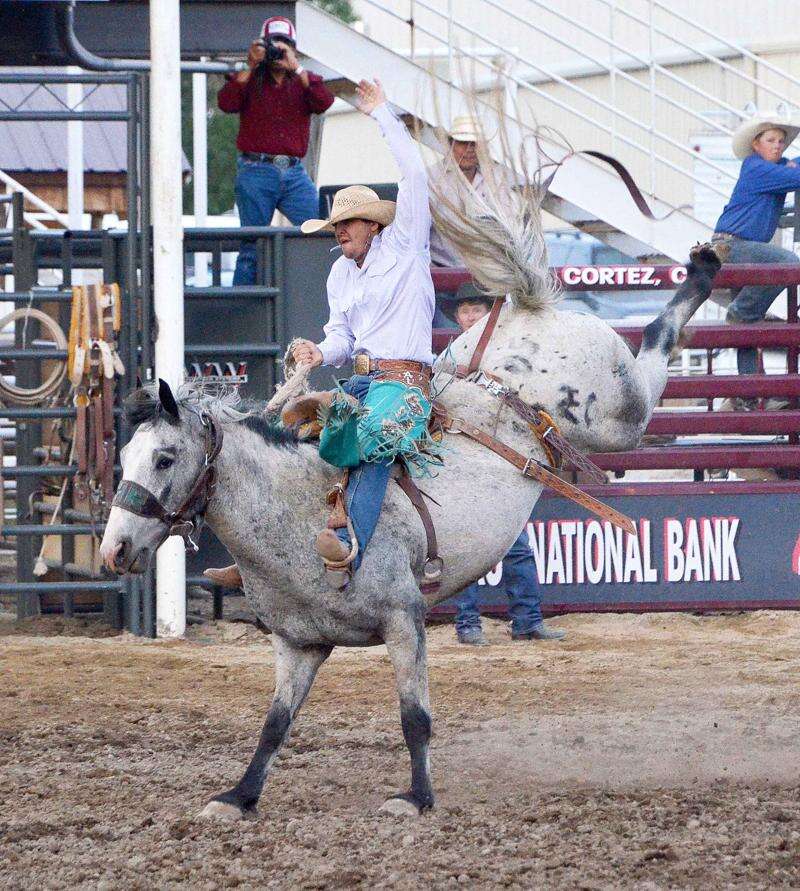 For athletes from Cortez, Dolores, Mancos and Dove Creek, state championships are far from typical, and national championships are almost unheard of. Postseason triumphs are generally a rarity, and success is often defined by narrow losses rather than memorable wins.
The script flipped for several local athletes and local teams during 2017, however, as two individuals won prestigious titles, one team won a state championship, and several other teams enjoyed historic postseason success.
For the fans who were lucky enough to witness the triumphs, and the athletes through whom the victories were made possible, the past year will not soon be forgotten.
Eli Tomac wins motocross championship
Long known as one of Cortez's finest athletes, motocross superstar Eli Tomac climbed to the highest level of his sport when he locked up the Lucas Oil Pro Motocross series 450MX Motocross championship on Aug. 26.
The series victory served as the latest highlight in the Cortez native's impressive career, which has featured a Supercross series championship in the 250MX class and a second-place finish in the 450MX Supercross series.
After locking this year's series championship in the 450MX class by winning nine of the 24 total races in the 12-round series, Tomac expressed satisfaction before speaking of the elation that he felt upon capturing the title.
"We went out there and did what we needed to do," Tomac told The Louisville Journal and Courier. "This (series victory) has been a long time coming, and it feels amazing to finally accomplish it."
Austin Wagner captures state triple jump title
Competing in the Colorado State Championships on May 21, Montezuma-Cortez High School senior Austin Wagner captured the Class 3A triple jump title with a hop, skip, and jump of 44 feet, 9 inches.
The state-best leap capped off an impressive four-year career for the M-CHS track star, who began competing his freshman year after longtime head coach Bob Archibeque recognized Wagner's natural athleticism and implored him to join the team.
"It was kind of like a movie or storybook finish for him," said Archibeque, after Wagner captured the championship. "It came down to one jump, and he nailed one, and he won by an inch."
Local Little League team wins state
Leaning heavily on the strong arm of Caleb Compton and the powerful bat of Dakota Smith, an all-star team from Cortez's Southwest Colorado Little League finished as the top team in Colorado for the Major League Division, which is open to 15- and 16-year-old players.
To win the state title, the Southwest Colorado team defeated Arapahoe 10-0 in the first round of the state tournament before defeating Sherrelwood, 13-0 in the state semifinals.
Southwest Colorado took the field for a rematch against Arapahoe in the state finals and won 8-0.
"It was an awesome game and an awesome tournament," Southwest Colorado manager Tim Passell said. "We moved runners, we hit, and our pitching was on."
Mancos football team delivers historic season
Entering the 2017 season with a roster made up of experienced seniors and talented underclassmen, the Mancos High School football team exceeded expectations by finishing with an 8-3 record and advancing to the state quarterfinals in Colorado's 8-man division.
Among the many highlights of the Bluejays' storybook season was a 22-14 overtime victory over Norwood and a 64-28 victory over Rocky Mountain Lutheran in the first round of playoffs. Prior to this season, the Bluejays had not defeated Norwood since 2009 and had not won a playoff game since 2002.
Mancos fell to Soroco 40-0 in the state quarterfinals after the Rams' all-state junior running back Jace Logan ran for 430 yards and six touchdowns.
Bluejays' head coach Josh Gardner summed up his team's special season.
"We had a lot of talent and a lot of hard workers," Gardner said.
"Our thing that we did this year is that we played together as a team. We didn't have a lot of single standout players, but we had a lot of great leaders, and I think that leadership will filter down to our younger guys."
Dolores volleyball team returns to state
Capturing the attention of fans with its team-oriented style of play and its blue-collar attitude, the Dolores High School girls' volleyball team earned a spot in the Class 2A State Tournament and finished the year with a 22-4 record.
Among the Lady Bears' most outstanding players was sophomore Jordan Elder, who hammered down a team-high 322 kills and helped key a 22-match win streak that stretched from Aug. 26 until Nov. 4.
Concluding its season at state, Dolores battled hard during a three-set loss to top-seeded Yuma before dropping its final match of the season to Rangely. Despite the losses however, players returned home with their heads held high after what all agreed was a truly outstanding season.
"We just have so much heart and passion for the game of volleyball," said senior Cameron Elder. "We've been playing together since we were little and we just want it so bad. We can play through God and for God, and that has been our motivation all season."
Ute Mountain Roundup Rodeo thrills fans
Taking place under clear blue skies in front of scores of excited onlookers, the 2017 rendition of the Ute Mountain Roundup Rodeo stood out as one of the most exciting sporting events of the season.
Opening with a cannon blast and a rousing performance of "God Bless America," the three-night event featured standout performances by star bull rider Ty Wallace and well-known saddle bronc rider Taos Muncy.
Several other cowboys and cowgirls from throughout the country also competed, and by the time the curtain dropped on the 87th rendition of one of Cortez's most well-known sporting events, fans and competitors agreed that fun was had by all.
"The people I've met through rodeo and traveling. ... I've always got a place to stay," said Florida bull rider Drew Flynn. "If I go broke, somebody's got my back. They go broke, I've got their back. (Rodeo cowboys) are like a family, and we try to treat everybody that way."
Mancos cross-country team shines again
Continuing its run as one of the most dominant prep programs in the area, the Mancos High School boys cross-country team captured its fourth straight regional title and fourth place at the Class 2A cross country championships.
Senior Simon Kearns led the way for the Bluejays with an eighth-place finish overall, and seniors Caleb Yoder, Zane Wilson and Alex Fleitz played key roles for Mancos throughout its season.
"This group of seniors have been regional champs all four years and have finished second, third, fifth and fourth at state (as a team)," wrote Mancos head coach Brady Archer. "That's pretty good."
M-CHS baseball team returns to playoffs
After being absent from the postseason for more than a decade, the Montezuma-Cortez High School baseball team finished its season with a 10-10 record and qualified for the playoffs.
Leading the way for the Panthers was junior Jasen Engel, who batted .509 and drove in a team-high 27 runs, while also finishing with a team-high five victories on the mound.
Among the Panthers' standout wins was a 10-0 shutout of Ignacio in the final game of the regular season, which was keyed by a pitching performance by Engel and RBIs by Cordell Baer, Cutter Matthews, Briggs Durbin and Engel.
"I'll always remember how we came together as a team over the course of the year," M-CHS manager Tim Passell said. "It wasn't just one individual. It was somebody different that came through for us each outing."
Tanner Lockhart named Rookie of the Year
After an outstanding season on the Mountain State Circuit that included several standout performances, professional Saddle Bronc rider Tanner Lockhart was honored as the circuit's Rookie of the Year.
The award for the Dolores High School graduate and former Ute Mountain High School Rodeo Team member was the latest of several honors for Lockhart, who won the Colorado High School Rodeo Association state championship in the Saddle Bronc event in 2013 and won the World Champion Saddle Bronc title at the Little Britches National Finals Rodeo later that year.
"It felt pretty good to get that win," said Lockhart at the time. "Being world champion is going to take a while to sink in."
M-CHS swim team reaches new heights
Led by seniors Samantha Bagge and Bailey Duran, the Montezuma-Cortez High School swim team enjoyed a standout season during which team members broke school records in six events and finished 21st at the Class 3A state meet.
Among the Lady Panthers' most outstanding swims of the season were those put forth by Bagge at the state meet, which resulted in a ninth-place finish in the 50-yard freestyle (25.20) and a 16th-place finish in the 100-yard backstroke (1:06.69).
M-CHS's 200-yard freestyle relay made up of Bailey Duran, Caisey Duran, Jenna Barner and Bagge placed 10th overall at the state meet with a school record time of 1:47.54.