Effort is to adopt out cats and dogs, raise funds for Cortez Animal Shelter
The Cortez Animal Shelter is seeking sponsors for its 10th annual 12 Strays of Christmas fundraiser.
The shelter asks local businesses and individuals to sponsor a dog or a cat in need of a forever home for a minimum $25 donation.
Shelter staff will walk adoptable dogs on Main Street during the lunch hour. The dogs will wear costumes with the sponsor's information attached as a form of advertising.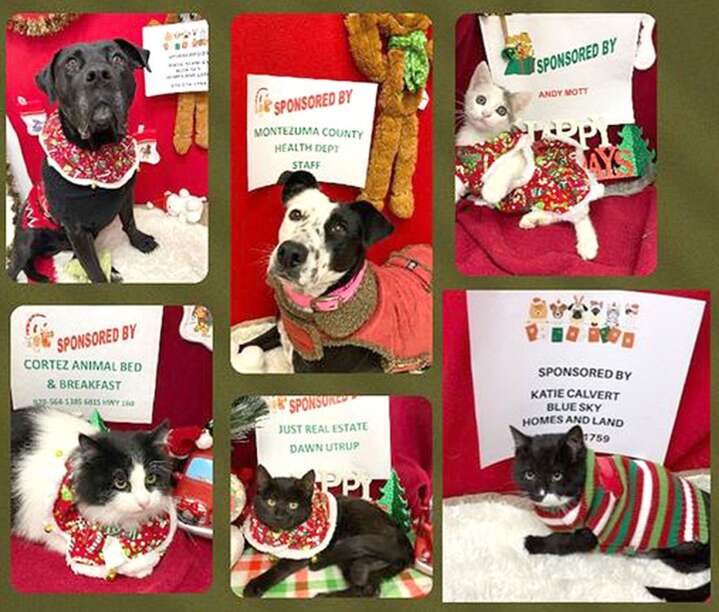 The sponsor's information will also be attached to the animals cage at the shelter, and a thank you will be posted in The Journal and on the shelter's Facebook page.
"The goal is to find good homes for the animals and raise awareness of homeless pets during the holidays," Kennel Supervisor Jennifer Crouse said. "This is our only fundraiser of the year."
Money raised goes toward buying food and supplies needed to care for the animals. So far, the event has raised $1,200 from 20 sponsors, Crouse said.
Giving a sponsorship for a dog or cat for the fundraiser is also great gift for the holidays.
The fundraiser has spurred awareness and has led to seven dogs and 10 cats being adopted out so far, Crouse said. More dogs and cats are still available for adoption.
Information about sponsoring one of the 12 Strays of Christmas is available by calling the animal shelter at 970-565-4910 or stopping by at 2791 E. Main Street to pick up a form. Hours are Mon-Fri. 10 a.m. to 4 p.m.
Information on the Cortez Animal Shelter is also available on the organization's website and Facebook page.
The Cortez Animal Shelter is seeking to hire a part-time kennel technician aide. The position is for 25 hours per week. For more information visit www.cortezco.gov/jobs.aspx