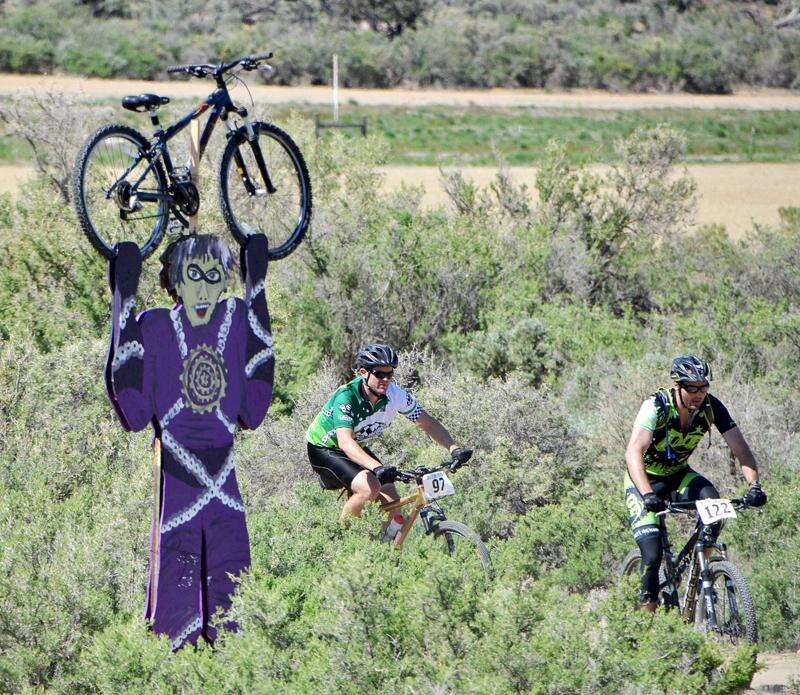 Classic mountain bike race at Phil's World near Cortez caps out at 950 riders
Cortez's premier mountain bike race, 12-Hours of Mesa Verde, has sold out and is looking for volunteers.
The endurance race at the Phil's World trail system takes place May 7 and 950 riders have signed up, the maximum allowed.
Teams and solo riders in various categories compete by completing as many 16-mile trail laps as they can between 7 a.m. and 7 p.m.
The race is a relay format for teams, so not all riders will start at once.
When the gun goes off at 7 a.m., 360 riders will roll away at the Montezuma County Fairgrounds. They ride pass the timer, then through a tunnel under U.S. Highway 160 to access the 16-mile single-track course on Bureau of Land Management land.
The race is back to "full-bore," said venue coordinator Cap Allen, after being canceled because of the pandemic in 2020 and reduced participation in 2021.
Proceeds from the race are donated to local youth organizations and programs. Since its inception in 2003, the race has donated more than $700,000 to community youth organizations, Allen said.
This year, the theme is "Blazing Saddles" in honor of Mel Brooks' classic Western comedy.
"There are a lot of metaphors there," Allen said. "Some people will be in costumes. There will be a lot of cowboy hats."
The event needs about 30 additional volunteers to be course marshals and to work the timing table. Volunteers work a 2- to 4-hour shift and get a free T-shirt and snacks.
To volunteer, visit the race website, 12hoursofmesaverde.com.
"It will be a fun day for the entire community. Come on out even if you are not racing," said organizer Dani Gregory.
Free activities for children are available from 10 a.m. to 3 p.m., and a children's bike race starts at noon, with registration at 11 a.m.
Vendors include three local food trucks and local craft beer.
Camping at the fairgrounds event venue is free and opens starting the Thursday afternoon before the race and closes the Monday morning after the race. The camping area is generous, and spots are first-come, first-served. Limited RV spaces (electric and water only) are available for $100 for the weekend, also first-come, first-served. There are no RV dumps on premises.
The top five racers in each category will make the podium, Gregory said, and will receive trophies and gifts.
Every year, riders, including professionals, come from all over the country to compete in the 12-hours of Mesa Verde, Allen said.
Last year in the solo male division, Josh Tostado, 46, took first place with eight laps in 10 hours, 58 minutes and 56 seconds. He rode a total of 128 miles,
Chelsea Strate, of Minneapolis, was the fastest solo woman, completing seven laps in 12 hours, 33 minutes and 22 seconds. Each lap is 16.2 miles, and she rode 113.4 miles total.
For information on 12 Hours of Mesa Verde and for a race map go to www.12hoursofmesaverde.com/
jmimiaga@the-journal.com