Cortez can be a waypoint on larger journey in Four Corners
The sun sets behind Ute Mountain in Southwest Colorado aflame with vibrant colors of red, pink and orange.
As the sun bids the valley good night and the stars begin to shine through the velvety night sky, a loud pop erupts, bringing life to the still evening.
Glittering fireworks take over the dark sky, creating an awe-inspiring sight that dazzles onlookers. People cheer and children shriek as they celebrate America's independence in the small town of Cortez, Colorado.
It's a small town – no malls, no Chik-fil-a and no Olive Garden or Texas Roadhouse in sight.
It may be small (8,766 people according to the 2020 Census), but to those who live here, it is home, and for visitors, it is an often overlooked gem.
While Cortez may not be the town that comes to mind when planning a bucket list trip to Colorado, it is a good base for tourists who want to explore Mesa Verde country and branch out to travel destinations such as Telluride, Durango and Moab.
"Winter, spring, summer, or fall you get the best of all worlds," said Robyne Cote, a counselor at Montezuma-Cortez Middle School and a member of the board of the Unte Mountain Roundup rodeo. "Canyonlands, desert, mountains, rivers, lakes – it's there to enjoy in any season."
"We are close to Moab, Telluride, Durango and Monument Valley and within driving distance to the Grand Canyon Zion, Mesa Verde and other amazing national (monuments), which make it the perfect central place to stay and enjoy all these outdoor icons," Cote said.
And tourism is expected to rebound from a dip in travel during the height of the COVID-19 pandemic
At Mesa Verde National Park, the number of unique visitors declined by just 4,297 people when comparing 2021 to 2019 – 561,987 versus 566,284.
Getting outdoors
Sitting at more than 6,200 feet above sea level, Phil's World Mountain Bike Trail boasts 27 miles of single-track trails that can accommodate various skill sets and levels of experience. The MTB Project has ranked the intermediate-level trail system tops in the state.
Mesa Verde National Park offers a glimpse into the ancient past by allowing visitors to view and tour the homes built into the mesas and cliffs by Ancestral Puebloans. Stunning views showcase the communities nestled in stone.
Along with tours, Mesa Verde offers hiking trails, stargazing excursions and fun activities for children. Children ages 4-12 can become Junior Rangers during their trip.
Brian Bartlett, Mesa Verde marketing and communications manager, promotes the park's central location for exploring Southwest Colorado's archaeological treasures and three towns of Cortez, Dolores and Mancos.
"Cortez is located perfectly between all of our major cultural attractions like Mesa Verde, Hovenweep, (Canyons of the Ancients National Monument) Museum, and ties our "Three Sisters" communities – just like the corn, beans and squash – together so beautifully for a variety of activities providing recreation, exploration and exhilaration."
"Our entire area can be accessed by day trips in the true "basecamp style" – so visitors only have to check in and unpack once but can enjoy the best dining and experiential options that several different communities have to offer right here in Mesa Verde country day after day," Bartlett said.
The Cortez Farmers Market provides an array of local produce, flowers, honey, eggs, meat, crafts, jewelry, coffee, baked goods and more. It runs Saturday mornings from 7:30 to 11:30 a.m. June 6 through Oct. 22.
Live music is provided by sponsors KSJD Community Radio. A children's story hour takes place at 9:30 a.m.
One of the top 500 wine producers in the United States finds its home in the desert of Southwest Colorado. Sutcliffe Vineyards of McElmo Canyon is unique in its commitment to growing its vineyard in the sometimes-harsh desert conditions.
The vineyard was established in 1995 and offers wine tastings, live music, weddings, farm-to-table dinners with guest chefs serving local foods, and more.
In September, the vineyard will host its 14th annual Harvest Dinner, described by its website as "the most elegant event of the year."
Shopping
Just because there isn't a mall in town doesn't mean there aren't fun places to shop in Cortez. Small businesses with unique stories and inventories offer a variety of local flavor.
Merriweather Home Market, on Elm Street, features over 50 local artisans and vendors in shop. The market was opened in October 2021 by Erin Hanson as a way for local artists to be showcased and have a chance to sell their goods.
"I'm a hometown girl. I love supporting our local artisans and makers in the community and making connections with those that live here and those that are visiting," Hanson said.
The store features modern and vintage jewelry, accessories and home décor along with freshly made pastries and other food items, honey, beauty products for men and women, cards, candles, baby products, cleaning products and more.
Women can find classic chic clothing, with a hint of boho, on Main Street when visiting Love on a Hanger, a stylish boutique started by local Tiffani Randall in 2011.
The newest local shopping stop in Cortez was opened this year by Jeremy and Kara Linch. The Station is on Maple Street and takes residence in an old gas station built in the 1950s. This local spot offers country chic clothing for men and women, while selling home décor and furnishings, with handmade woodwork.
Notah Dineh has been in Cortez since the 1960s and features a variety of Native American artisans from the Navajo, Zuni, Hopi and Pueblo tribes. Visitors will find handmade gold, turquoise, and sterling silver jewelry, handwoven rugs and more. The trading post also features a Native American museum featuring pottery and history of the local tribes.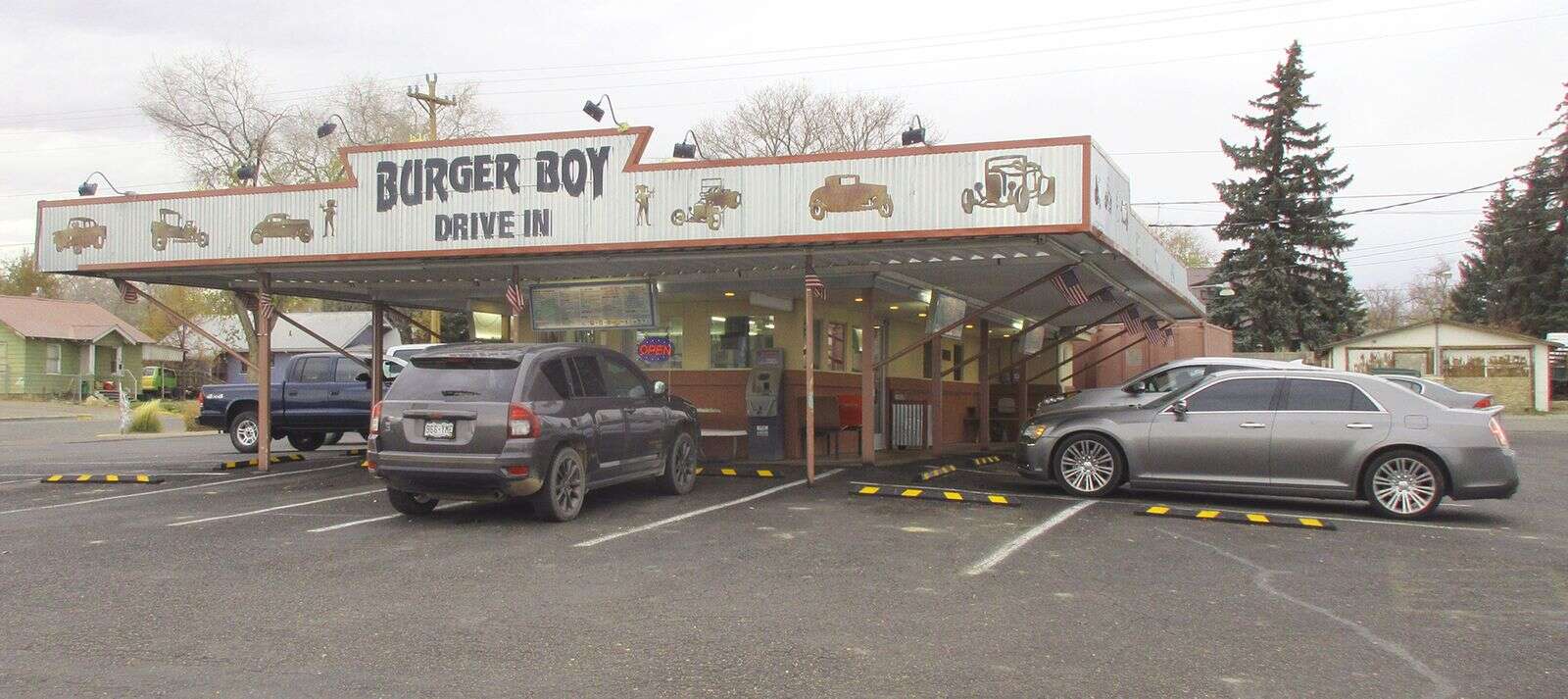 Food from land and sea
While Cortez may not feature the chain restaurants often seen as staples in other cities, it boasts a variety that will be sure to satisfy any taste.
Visitors who crave a burger need look no farther than 1950s-style drive-in diner Burger Boy, J.Fargo's, or Blondie's Trophy Room, which also serves a Navajo taco. Those who don't mind a little drive can also find burgers and milkshakes at The Depot in Dolores.
Cortez Thai is popular for its Thai-style food, while Stonefish Sushi and More is known for its more sophisticated atmosphere and delectable sushi.
Lotsa Pasta serves Italian food and pizza, while Shiloh's Steak House is a local go-to for steak. Gustavo's is well-loved for its tasty Mexican dishes and bakery, while The Farm and Loungin' Lizard have a wide variety of foods.
Festivals and events
The Ute Mountain Roundup Rodeo kicks off the summer in Cortez at the beginning of June with a three-day event that brings entertainment and fun to people of all ages. The Pro Rodeo Cowboy Association lineup includes bull riding, bareback broncs, barrel racing and team roping and mutton busting for kids.
Cote, who is on the rodeo committee, touts the top-level competition, which this year highlighted world champion bull rider Stetson Wright.
"It's a great event for our area that draws some of the best in the circuit and offers a great family event for our community," Cote said.
A carnival with exciting rides accompanies the rodeo every year.
As summer begins to wane, the Cortez Rendezvous Hot Air Balloon Rally makes its way to Parque de Vida. The three days of launches and chase crews, includes a free balloon glow at sunset. This year, it runs Aug. 5-7, with launches from the park at 6:30 a.m. and a balloon glow Saturday, Aug. 6, at 7:30 p.m.
During the balloon glow, the hot-air balloons stay anchored to the ground as crews fire up their burners, illuminating the balloons in a dazzling display of colorful light. Visitors are encouraged to walk among the balloons and even say hello to a pilot.
For those seeking a cultural experience, the Ute Mountain Ute tribe holds multiple tribal dances every year, such as the Bear Dance. While some dances are for tribal members only, others allow visitors an inside look into the culture and traditions of the Ute Mountain tribe.
What Cortez lacks in size it makes up for what it offers. Whether you're here to stay or a short stop in a longer journey, Cortez is a small, southwest gem centrally located among national destinations.