But snowfall provides high hopes for McPhee Reservoir and drought-ravaged farms and ranches
A major snowstorm hit Southwest Colorado on Tuesday, shutting down government offices in Cortez and Montezuma County and closing schools throughout the region. Power outages left nearly 800 people without electricity, mostly south of Cortez.
An avalanche warning was in effect until 11:45 p.m. Tuesday as the three-day storm continued to dump snow on the La Plata Mountains and southern San Juan Mountains. The risk of avalanches was rated "high."
As of noon Tuesday, delays and cancellations at Cortez Municipal Airport and Durango-La Plata Airport were minimal, with one delayed arrival from Grand Junction in Cortez, and four cancellations at DRO – two departures and two arrivals.
The Montezuma-Cortez, Dolores, Mancos and Dove Creek school districts closed as the two-day storm hit Southwest Colorado.
The city of Cortez, Montezuma County offices and Ute Mountain Ute Tribe offices also closed. The Cortez Recreation Center planned to remain open until 4:30 p.m., with minimum staff on hand.
"The closure is being done in the interest of safety and limiting travel," states a city of Cortez Facebook post. "Essential services and law enforcement will remain active. Updates will be provided if circumstances change. Thank you for your patience."
Snow closes Wednesday
Schools in Montezuma County and Dove Creek closed Wednesday because of winter weather conditions.
Montezuma-Cortez, Dolores, and Mancos school districts had planned a two-hour delay, but after heavy snowfall overnight, closed on Wednesday. Dove Creek schools, in Dolores County School District Re-2J also closed.
Schools in Cortez, Dolores and Dove Creek closed Monday and Tuesday because of the snow. Mancos Schools had a snow day Tuesday.
Schools in Cortez, Dolores and Dove Creek closed Monday and Tuesday because of the snow. Mancos Schools had a snow day on Tuesday.
Snowfall gives farmers hope
Still, the snowfall was good news for farmers and ranchers in Southwest Colorado. As of Tuesday morning, the Dolores River Basin was at 165% of the 30-year average, providing ample precipitation for the drought-ridden region and the prospect of a recharged McPhee Reservoir.
Tuesday's snowfall came as a major storm blanketed Southwest Colorado beginning Sunday and dropping 7.8 inches of snow through 7 a. m. Monday, according to National Weather Service meteorologist Scott Stearns. It also dumped 9 inches on Dolores and Rico, 8 inches on Hesperus and Telluride, and 9.5 inches on Durango.
By Tuesday morning, the storm had dumped 11.3 inches on Cortez, 38 inches between Dolores and Rico, 21.8 inches on Durango, 24.1 inches on Hesperus and 14 inches on Telluride.
Precipitation was expected to continue overnight Tuesday in Cortez and end at noon Wednesday, Stearns said.
A smaller storm will move in on Thursday and bring another inch of snow to Cortez, with more in the mountains.
Then late Sunday, a new wave enters the area, but storm models show that it will favor high elevations.
The series of storms is the result of an atmospheric river of moisture drawn up from the eastern Pacific Ocean. It has dumped rain on lower elevations of California, and the Intermountain West gets the leftovers, Stearns said.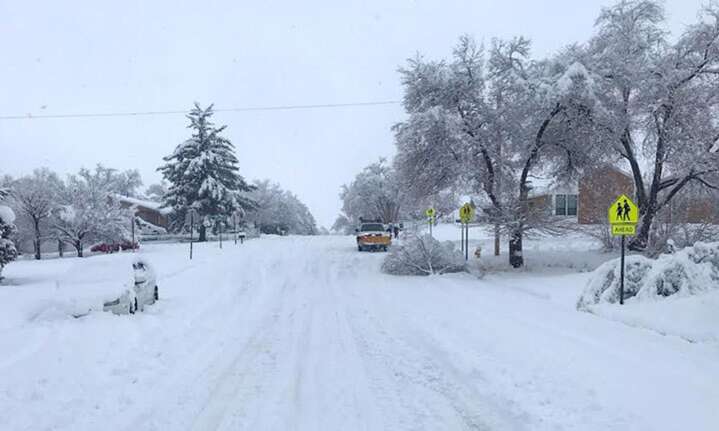 Residents lose power
Power was out for 777 customers as of 11 a.m. Tuesday, according to the Empire Electric Association's outage map.
The power outages were mostly in southern Cortez, in Towaoc and along U.S. Highway 160 south of Cortez. The outages affected 4.6% of Empire's customer service area.
Heavy snow on lines and vegetation falling onto lines are the main culprits for the power outages, said Andy Carter of EEA.
"We're working as fast as we can. There are no major equipment failures," Carter said. "Our crews have been out responding to outage calls. With weather like this, these situations occur."
Garbage collection service continued to operate, and city and county plows were out in force. Emergency services were still available, the post stated.
"Due to the significant snowfall and associated hazards, Montezuma County government offices will be closed today," stated a county Facebook post. "
The Montezuma County Board of County Commissioners meeting was still being held and can be viewed online at www.montezumacounty.org (click on the YouTube icon.)
Mesa Verde National Park closed for the third consecutive day because of the heavy amount of snowfall.
Crashes and slide-offs
The storm caused poor road conditions and contributed to multiple slide-offs and crashes, said Montezuma County Sheriff Steve Nowlin.
In response to the heavy snow, he positioned deputies in quadrants around the county to reduce response times for emergencies.
There were two crashes on U.S. 160 south of Cortez, the Colorado State Patrol said.
About 11:20 a.m., there was a two-vehicle head-on collision at mile marker 31 on U.S. 160 south of County Road D, reported Master Trooper Gary Cutler. The southbound lane was temporarily closed.
There were no injuries. The driver of a Ford Escape was cited in the crash for driving too fast for conditions, said Trooper John Trentini. Both vehicles had to be towed. No additional details were available.
About 2 p.m., a one-vehicle crash on U.S. 160 at mile marker 29 sent one person to the hospital, Cutler said.
A Toyota-model vehicle crashed 15 feet off the roadway and flipped onto its top. An occupant was taken to Southwest Memorial Hospital.
U.S. Highway 491 was snowpacked and icy Tuesday morning and caused problems for semitrailer drivers. An alert was sent out reminding truckers of chain and traction requirements, said Montezuma County Emergency Manager Jim Spratlen.
"There are a lot of icy, snowpacked roads. Don't drive if you don't have to so plow crews have time to clear the roads," he said.
Residents were reminded to reduce roof snow loads on homes and businesses to prevent collapses, he said.
Also, make sure furnace and hot water heater vents are clear of snow. Blocked vents can cause carbon monoxide build up indoors, which can be deadly.
Residents who rely on critical home medical equipment, such as oxygen or dialysis machines, and emergency generators were encouraged to sign up for the county's Access and Functional Needs Referral Program.
In emergency situations, such as a power outage, county officials and first responders can better keep in contact with at-risk residents in the event of an emergency, Spatlen said.
He will also meet with at-risk residents to help prepare them for emergencies. So far, about 200 people have signed up for the program, which began in 2021.
San Juan Mountain snowpack above average
The recent storms have boosted San Juan Mountain snowpack, a promising sign for area reservoirs.
Snotels – devices that measure snowpack-water equivalent – are above average for the Animas, Dolores, and Colorado River Basin above Lake Powell.
As of Tuesday morning, the Dolores River Basin was at 165% of the 30-year average.
Specifically, the Scotch Creek Snotel is at 179% of the average and Sharkstooth is at 176%.
The above average Dolores Basin snowpack bodes well for filling McPhee Reservoir, which has been below 50% capacity the last two irrigation seasons – 10% in 2021 and 40% in 2022.
The Animas Basin is at 134% of the 30-year average for snow-water equivalent. The Cascade No. 2 Snotel registered the highest snowfall at 153% of the average.
The Colorado River Basin above Lake Powell is at 150% of the 30-year average for snow-water equivalent.
Avalanches are likely
An avalanche warning was in effect in the southern San Juan Mountains of Montezuma and La Plata counties until 11:45 p.m. Tuesday. The avalanche risk was rated "high," at Level 4. Only the "extreme" risk of Level 5 is more severe.
"An avalanche warning is in effect for areas surrounding the La Plata Mountains, Vallecito, Lone Cone, Rico, Coal Bank and Molas Passes," the Colorado Avalanche Information Center said. "Natural and human-triggered avalanches are very likely."
The winter storm warning remained in effect until 5 p.m. Tuesday.
Ski areas get bounty of snow
Telluride Ski Resort reported 11 inches of new snow in the past 24 hours, for a total of 40 inches of accumulated snow and a season total of 121 inches. Fifteen of 17 lifts were open.
Purgatory Resort reported 10 inches of snow in the past 24 hours, and 7 inches overnight, for a base totaling 60 inches and a season total of 149 inches. Two of 11 lifts were running, and all 105 trails were open.
Hesperus Ski Area reported 10 inches of snow in the past 24 hours, and a 40-inch base. Its one lift and all 26 trails were open.
Wolf Creek Ski Area reported 14 inches of snow in the past 24 hours and 36 inches in the past three days, for 93 inches at midway and 103 inches at the summit.