Funding supports new bathroom, bear mitigation, emergencies and river access
The town of Dolores has been awarded three state grants and one federal grant totaling $257,000 for various town improvements.
The grants will help pay for a new public restroom at Flanders Park, buy 26 bear-proof trash cans, install a new emergency siren and improve Dolores River habitat and river access along the River Trail.
New restrooms
A $150,000 grant from CDOT's Revitalizing Main Streets fund will go toward a new public restroom at Flanders Park.
A match of $72,461 will come out of the town's share of America Recovery Act funding. The town paid $16,000 in design and engineering costs. Site prep work will be completed in-house by public works staff.
The new restroom building will be located on the southeast corner of Flanders Park in front of Town Hall and be open year-round.
Once final designs are completed, construction will go out to bid, said Town Manager Ken Charles. Depending on construction company schedules, it will be built either this year or next year.
The board approved the new public restroom citing a need for the facility during frequent downtown events. It is also seen as a way to ease pressure on area businesses that have reported overuse of their restrooms during town festivals.
A visible public restroom with convenient access from Colorado Highway 145 is also seen as a way to get travelers and tourists to stop in town.
Bear proof trash cans
A $27,078 grant from Colorado Parks and Wildlife will help replace town-owned public trash cans with bear-proof designs. The town provided a match of $9,000.
The town partnered with Rico and Cortez on the CPW Human-Bear Conflict Reduction grant.
Dolores will receive 21 bear-proof cans, Rico will receive three and Cortez will receive two. One of the Cortez cans will be placed at the Cortez Municipal Airport. The towns cost-shared the matching funds.
Over the last three years, Dolores has replaced nine of its trash cans with bear-proof ones. With the grant funding, all 30 town trash receptacles will be bear-proof design.
Dolores has had problems with bears getting into domestic and commercial trash bins, and has made bear-proof trash cans a priority to protect bears and people.
All commercial and town residents are required to have bear-proof trash cans, and the town government has committed to also follow that rule. The Montezuma County Sheriff's Office issues citations to residents and businesses that violate the bear-proof trash can rule.
Bears may be trapped, relocated or euthanized if they repeatedly access trash cans for food because of the public safety hazard.
Emergency siren
A $37,000 grant from the Federal Emergency Management Agency will help install an emergency siren in town. A $30,000 match was split between the town, the sheriff's office, and the Dolores Volunteer Fire Department.
Town Manager Ken Charles said the goal is to install the siren and get it working this year. Protocols must be developed on when and how it will be used. The siren will replace an outdated one that fell out of service. Town officials said an emergency siren is needed to alert residents of dangerous situations such as weather, wildfire and flooding.
Fishing is Fun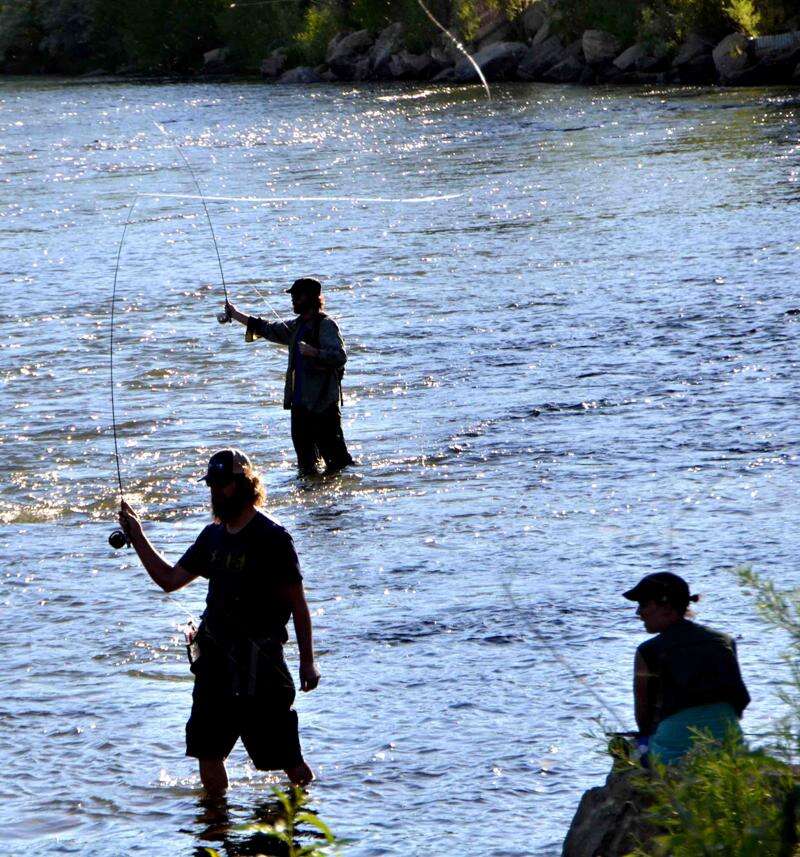 Colorado Parks and Wildlife awarded Dolores a $53,000 Fish is Fun grant to improve Dolores River access along the river trail and improve river habitat. The town provided a 25% match, or $13,000.
The Town of Dolores is a main access point for the Dolores River, which is mostly hemmed in by private land upstream.
In awarding the grant, CPW wanted to support and improve that essential public access, Charles said. The improvements will be done this year and in 2023.
jmimiaga@the-journal.com