Annual festival hits town next weekend
Troupe plans original shorts by local and regional writers
Montezuma County residents won't have to drive to Durango to take their children to the studio's ballet classes
A demographic shift in the 1970s brought a ski area, festivals and Hollywood Glitter. The mines in the San Juan Mountains were once rich with mineral deposits: gold, silver, zinc, lead, copp...
SANTA FE – Production of a six-episode television series based on crime novels by the late author Tony Hillerman is underway in New Mexico, the state Film office announced Tuesday. A psychol...
DATE: Aug 31, 2021 | CATEGORY: Books
Lady Bulldogs enter season as defending league champions
DATE: Aug 22, 2021 | CATEGORY: Sports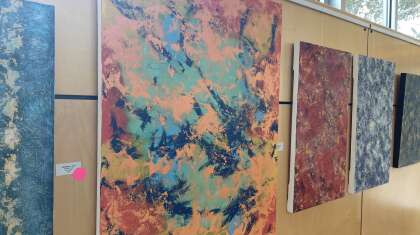 Michael Pruett's paintings on display through August
Ozark Mountain Publishing announced the release of "Where the Weeds Grow" by Colorado author Curt Melliger. "Where the Weeds Grow" is a selection of Melliger's essays about subjects ranging ...
Blue Mountain Tribe's song, video gaining worldwide attention
Crossover music, chocolate and an outdoor picnic start Friday
DATE: Jul 15, 2021 | CATEGORY: Music
NASHVILLE, Tenn. – "The Voice" coaches Gwen Stefani and Blake Shelton celebrated their nuptials over the Fourth of July holiday during a weekend wedding in Oklahoma. The pop star and the c...
San Juan Mining & Reclamation Conference seeks artist proposals for its 11th annual conference. Submission deadline is July 9. Submissions should add to and expand on the conversation about...